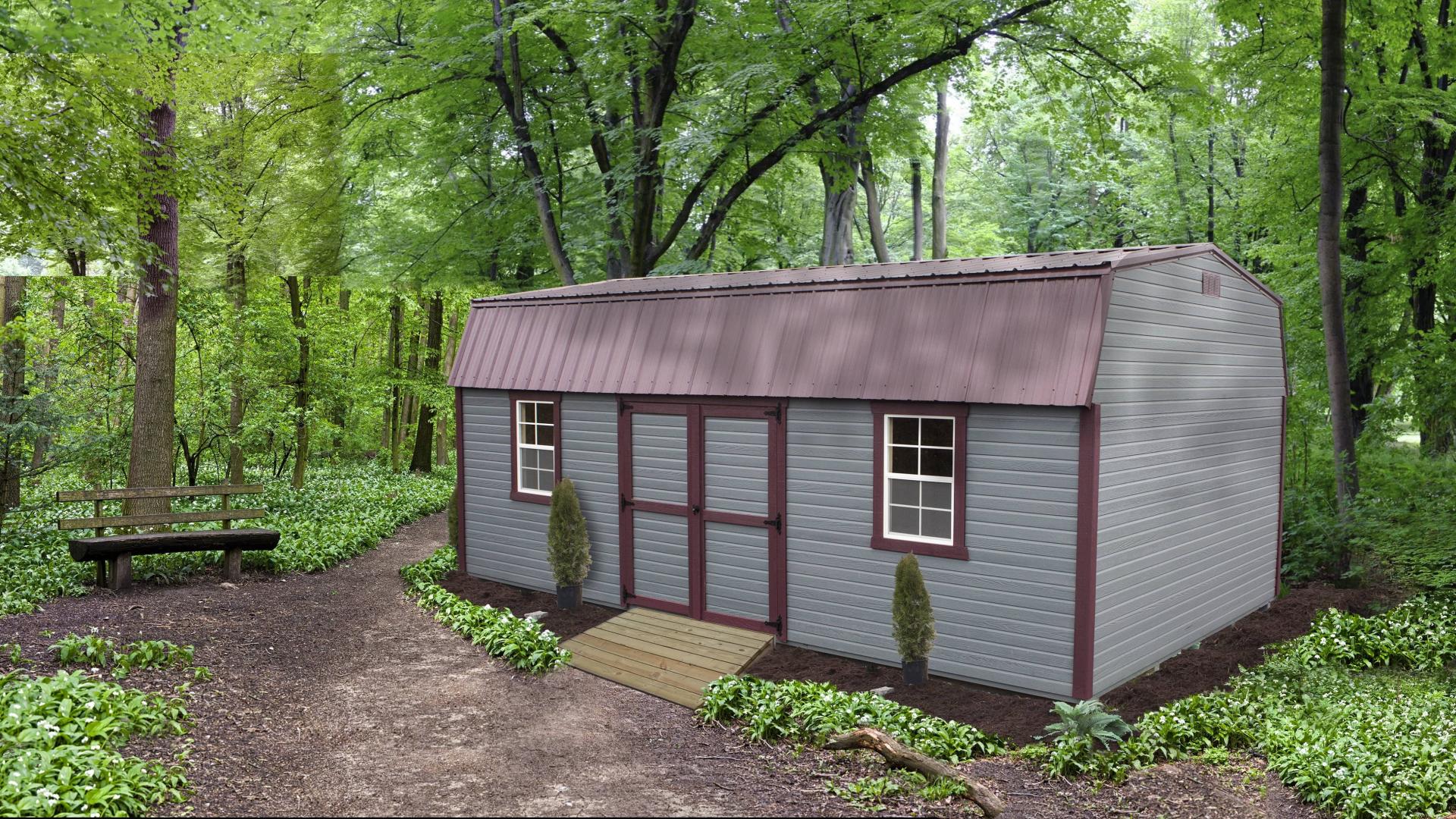 The way your shed is constructed, from its size, shape, and building material, are all important to keep in mind relative to the function of the shed. Depending on what you're storing or what you are using the shed for can determine how big the shed needs to be. When it comes to what material you choose to have your shed built from, your budget and preferred style are key factors.
Wood
If you're a fan of wood for its natural beauty and you believe this is the route you want to take with your shed's siding, you have a couple of options.
If you are going for the log cabin feel, half log siding will achieve that beautifully. Cincinnati Shed's half log siding is made to resist fading over time and holds up against the elements while retaining its original color.
Barns can be a great source of inspiration for your shed project. Their classic, rustic feel just might fit your ideal shed style. The barn siding style features vertical flat planks laid out side by side around the perimeter of the building.
It's important to note that wood siding comes with more maintenance responsibilities than other materials. Natural Wood, in general, is more susceptible to the effects of weather, mold, and termites so it's important to monitor and perform routine maintenance on the wood so that your shed looks great and is structurally sound for years to come.
Engineered Wood
Dutch Lap is a very popular wood-alternative siding style. It aims to capture the feel of the classic overlapping wood-style while using a durable alternative.
If you like the look of wood but are looking for something that requires less maintenance, engineered wood offers a siding option that will look great and withstand the test of time. Cincinnati Sheds uses some of the best engineered wood products on the market.
Although engineered wood tends to be more expensive than vinyl, you are investing in a stronger material that is less prone to warping and showing its age over time.
Vinyl
Arguably the easiest material to maintain, vinyl siding is great at combating the elements while requiring very little upkeep. With vinyl, you will also have a wealth of color options that allow to get creative with your shed. 
However, vinyl is not the best material if you have future plans to upgrade the interior of your shed with custom shelves or tables that require drilling into the walls. On top of that, the color you end up choosing for your shed's exterior and roof is the one you'll have for as long as you have the shed because you can't simply paint over the existing color.
Metal
If you're on a budget and are looking for a material that is low maintenance, then metal might be your best option. Although metal might not be the most luxurious option, you are investing in a strong material that can last you a long time if maintained properly.
Rust is going to be the main structural issue you'll need to worry about and this can be prevented by properly ventilating your shed and making sure it is waterproofed.
Cincinnati Sheds makes everything from barns and hunting cabins to sheds and garages. If your vision for your shed is unique, they have a tool that lets you design your own shed. Whether you are still uncertain or have your heart set on the material that is right for you, check out Cincinnati Sheds to see what they have to offer!